Product Description:
– Water Capacity: 450ml
– Material: High Borosilicate Glass + 304 Stainless Steel Cap
– Battery Capacity: 650mAh
– Hydrogen Content: 600-1200ppb
Includes the Following Accessories:
– 1x Micro USB Charging Cable
– 1x Non-Slip Bottle Sleeve
– 1x Bottle Cleaning Brush
– 1x User Manual
Before First Use:
Fill your Personal Hydrogen Generator half full of water.  Screw on cap and and shake to rinse out bottle. (Do not use detergent or cleaning chemicals when unit is assembled as this could damage the electrolyzer's proton exchange membrane in the base.
Unscrew the glass bottle from the base and thoroughly wash both the glass bottle and the cap.  Reassemble your Personal Hydrogen Generator making sure the sealing ring is in place and that the base is screwed on tightly to prevent leakage during operation.  Unit may require charging before use.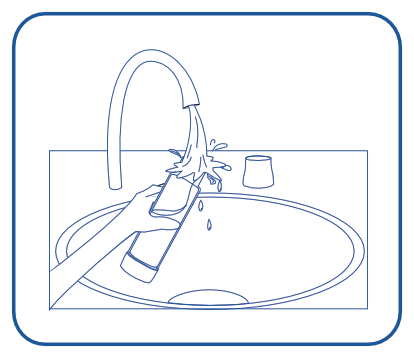 Normal Working Mode
— 4 minute cycle
Fill bottle with water, and double quick press the start button to begin cycle.  The unit will buzz one time and the blue LED will come on indicating the start of the electrolysis process.  Small bubbles will start to appear in the water.  The process will finish after 4 minutes, indicated by 3 buzzing tones.*
Allow at least 15 seconds after cycle has ended for the bubbles to clear.  Your hydrogen water is now ready to drink.   Enjoy promptly as the dissolved hydrogen in the water will begin to slowly dissipate as it sits. Dissolved hydrogen will last up to 2 hours with the lid sealed.
Note: To stop unit during operation, long press button for two seconds. Unit will buzz one time to indicate a successful stop.
* First Use Only:  When running your Personal Hydrogen Generator for the first time, the hydrogen water should be discarded and the process run again before drinking.
Cleaning Mode
— 10 minutes
Your Personal Hydrogen Generator has a self-cleaning cycle.  This process helps to keep your unit working efficiently longer.
To initiate cleaning cycle, fill bottle with water, and long press the start button 5 seconds.  The LED will light orange.
The unit will buzz 3 times to indicate the cleaning process is complete.  Discard water used for cleaning — do not drink.  Run the cleaning cycle after approx. 20 uses (hydrogenation cycles).
Note: To stop the cleaning mode before cycle has ended, hold button down for two seconds until buzzer sounds 2 times.
Charging Your Personal Hydrogen Generator
When your unit needs charging, an orange LED will flash and the unit will buzz 5 times and then automatically shut off.
Please connect the provided USB charging cable to a DC5V/1A power source and charge unit before turning back on.
The orange LED indicates that the unit is in charging mode and will remain on until charging is complete.