The revolutionary system designed to transform the academic advancement of students in special education.
Powered by cutting-edge AI-driven tools, this groundbreaking platform adapts to the unique requirements of each learner. Gold Edition empowers students who may have faced challenges in their studies, enabling them to bridge the gap and reach grade-level expectations successfully.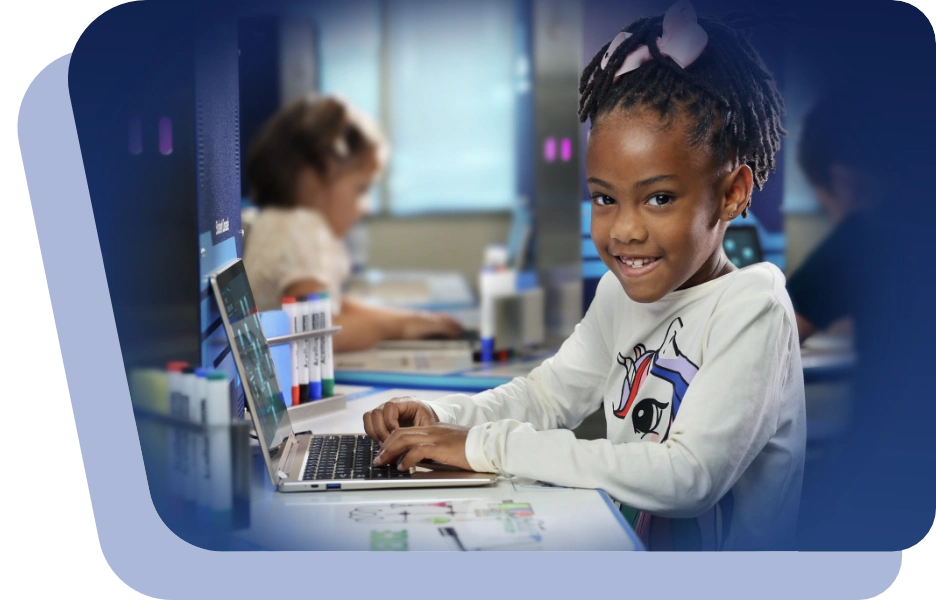 Grant Funding Available for Special Education
The Acellus Special Education Grant is a program to help schools implement the Acellus Gold Edition to meet the needs of students in special education programs.
By leveraging this grant, schools can effectively address the learning gaps experienced by students with severe challenges, fostering their academic progress and facilitating a smooth transition back into mainstream education.
This program equips teachers with a wide range of built-in supports, professional development, and training. Through this ongoing training process, teachers not only gain confidence in utilizing the system but also sustain a culture of continuous achievement and motivation.
What Makes Acellus a Learning Accelerator?
Building on modern research, Acellus developers study the way students learn, identify obstacles to learning, and experiment with different techniques rooted in cognitive science to discover the ones that accelerate learning.
Vectored Instruction
Acellus recognizes that addressing gaps in foundational knowledge is crucial to student success.  To overcome this obstacle, Acellus devised a groundbreaking solution known as Vectored Instruction, which serves as an effective remedy for students struggling with missing essential concepts.
Acellus Writing Tutor
The Acellus Writing Tutor uses Intelligent Interaction to tutor students as they write, giving immediate feedback on grammar, spelling, vocabulary and even on the writing style. This is a long awaited game changer on our ability to teach writing in the distance learning environment.
Professionally-Filmed Video Lessons
Acellus courses employ expertly produced video lessons to ignite students' curiosity. Collaborating with some of the nation's most skilled educators, Acellus crafts lessons which are not only impactful but also captivating. These videos, coupled with interactive course materials, deliver an online educational journey that fosters a genuine passion for acquiring knowledge.
Cognitive Learning Drills
Acellus is putting cognitive science to work. Acellus presents lessons in a way that fills up the student's working memory so that the new bits of knowledge go directly into implicit memory. 
Memorizing important information is critical for advancing to more difficult concepts. Examples include math facts and physics equations. Beginning readers need to memorize common words because the time needed to sound out words phonetically often degrades comprehension. 
Transforming Education's Landscape
The Acellus team has embarked on a mission to revolutionize students' learning experiences through an innovative online learning system. 
The manifestation of the Acellus Effect is shown when students who were struggling start experiencing success, when they grow in their self-esteem, when their attitudes change, and when there is a pervasive positive shift in the attitudes of both teachers and parents towards the education of their students.
Helping our students perform on grade level…
"Acellus has truly been a game-changer for helping our students perform on grade level," said Adolfo Melara, Superintendent at George I Sanchez Charter School. "Students come to our school with varying levels of readiness. Acellus has been an equalizer that bridges achievement gaps to address inequities in academic achievement."
Adolfo Melara, Superintendent
George I Sanchez Charter Schools − Houston, Texas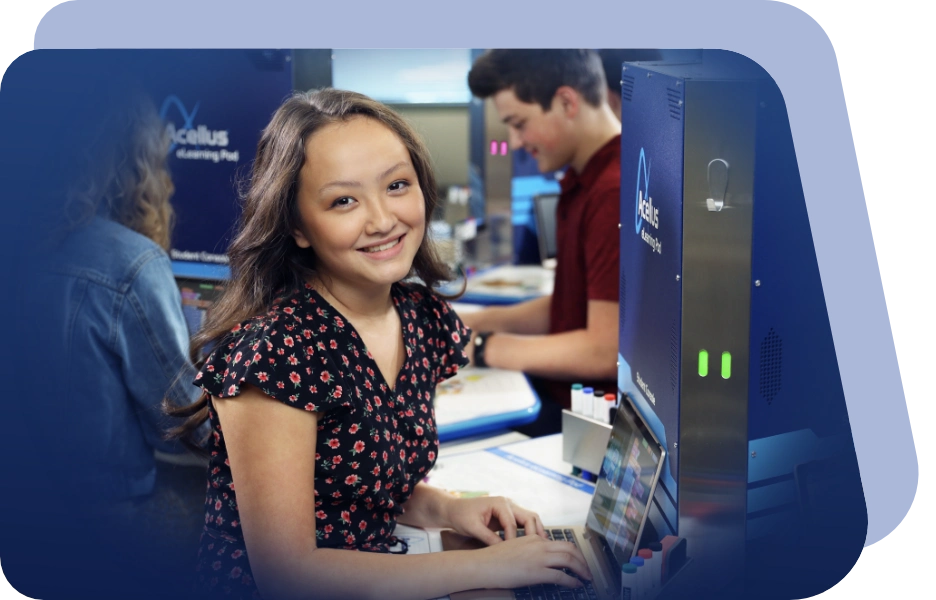 Acellus is equipped with powerful tools that alleviate the burden of routine tasks from the teacher's daily schedules. Simultaneously, it offers actionable guidance on supporting individual students, streamlining the teacher's role and ensuring that attention is focused where it is most urgently needed.
From our perspective at Acellus, teachers constitute the bedrock of learning within our educational institutions. Recognizing the pivotal role they play, Acellus advocates for providing the recognition and support essential for their triumph.
Students 3-4 years behind are performing on grade level…
"Our high school serves students in an alternative setting where it is not uncommon for students to be as much as 3-4 years behind grade level. Acellus has given us the tools to meet these students at their level and get them performing on grade level," explains Kevin Morris, Principal at Mount Olive Innovation and Technology High School. "Acellus has helped to restore student confidence and put students, who were once helplessly behind, on a path to success."
Kevin Morris, Principal – Mount Olive Innovation and Technology High School
Duarte Unified School District − Duarte, California
Acellus offers an expansive selection of standards-based courses K-12. Acellus courses are professionally filmed with some of the best equipment available in the cinematic industry.
The combination of incredible footage, outstanding teachers, and content that makes learning relevant to the real-world, makes Acellus videos captivating and interesting – igniting the student's interest in learning.
Middle School Sample Videos
High School Sample Videos
One System – All Your Students
Special Education
Multi-sensory instruction that is custom designed for students with special needs. Classroom-tested to be effective in getting students back on grade level.
Schools that are using Acellus in their Special Education programs have found that students very quickly start experiencing success and are often able to achieve grade level expectations. Extensive research has been done on how to most effectively teach students with special needs, and specific methodologies have been developed to most effectively reach these learners. Courses are available that have been specially designed for special education, starting at the elementary level and going up through 12th grade.
Credit Recovery
Effective, standalone system for credit recovery. Discovers deficiencies, triggering Vectored Instruction.
Acellus offers schools a wide suite of video-based courses for credit recovery, including electives and Career and Technical Education courses. The instruction is catered to the need of each student, so that priority is given to concepts students are still gaining mastery over. When gaps and areas of weakness are identified, even from prior courses of study, Vectored Instruction is activated and through targeted teaching builds back the missing foundational knowledge needed for a student to successfully complete the course.
STEM
Multi-year STEM program for elementary through high school. Self-contained teacher built in.
The Acellus STEM Lab program empowers math and science teachers to offer effective coding and robotics courses without the need for extensive additional training. The STEM Lab includes video-based coding courseware, and a programmable robot. By combining self-contained instruction with interactive tutoring to the student by the robot, Acellus is able to provide schools with STEM courses that can be up and running overnight.
Gifted and Talented
Rigorous courses developed to challenge and motivate even the most gifted students
Learners who show evidence of high achievement, such as gifted and talented students, often have unique requirements that require specialized instruction in order for them to fully develop their capabilities. Acellus allows students to move forward on an accelerated path, and differentiates the instruction so that students with various skill levels are not held back. A special accelerated mode of Acellus has been developed specifically for gifted and honors students.
Career & Technical Education (CTE)
CTE courses taught by teachers with years of work experience. Students are able to earn industry recognized credentials while in high school.
Acellus Career and Technical Education (CTE) courses incorporate the necessary academic anchor standards, along with the career and life-skills training essential for success in the 'real world'. With the various career clusters Acellus offers, students are able to take courses specific to the career pathway of their choice. Acellus CTE courses provide career related education experiences, while also allowing students to earn industry recognized credentials.
English as a Second Language (ESL)
Courses specially developed to help students from any ethnic background master the English Language
The Acellus Discover English courses are developed for students in ESL/ELL programs. They are ideal for students from any ethnic background and language that are learning English. This course utilizes the Universal Interaction Technique, developed by Roger Billings, so that the same course can simultaneously support students of various native tongues.
Intervention
Powerful deficiency diagnostics combined with targeted intervention restores student confidence and achievement.
Acellus provides targeted intervention for students, integrating prescriptive assessments and customized content, based on the student's skills and individual needs. Acellus identifies specific gaps in students' knowledge based upon their response to the presented concepts. Acellus then provides Customized Personal Instruction (CPI) to apply targeted intervention in the prescribed areas.
Social Emotional Learning (SEL)
Social Emotional courses including crisis intervention lessons for students and parents.
The Acellus SEL (Social Emotional Learning) courses focus on the importance of cultivating healthy relationships, a caring attitude, and the importance of one's overall well-being and physical health. SEL inspires positivity, which will empower students to face the day-to-day challenges they will encounter in the real world. Separate courses have been developed for the elementary, middle, and high school levels. 
Before & After School Programs
Expansive selection of standalone courses ideal for STEM, intervention, credit recovery and enrichment.
Incorporating Acellus into After School programs allows schools to personalize the learning experience for every student. This makes it ideal for a diversity of programs, including STEM, core intervention, credit recovery, and enrichment. With over 300 courses to choose from in every core area, including CTE, AP, and Elective courses, Acellus allows teachers to more fully differentiate the instruction provided.
Summer School
Video based, self-contained courses ideal for a diverse population of learners in Summer School Programs
With a wide array of course offerings, and many diverse deployment options, Acellus is a perfect fit for Summer School programs. Schools can choose from over 300 video based courses, and are able to control the level of rigor for each course. This makes it ideal whether the goal is to help struggling students catch up, or provide an accelerated option for gifted students.
Advanced Placement (AP)
18 College Board Approved AP courses, teacher taught and effective as standalone option
Acellus offers a large suite of College Board Approved Advanced Placement courses, which allows students to gain college credit while still in high school. Acellus AP courses have been proven very effective as both standalone courses, or as a supplement to regular AP classes. Schools using the Acellus AP courses are seeing a significant percentage of their students get perfect scores on the AP exam.
GED & Adult Education
Speciality courses designed for the GED, TASC and HiSET. Extensive array of career and workforce training courses.
Acellus provides schools and adult learning centers with an extensive array of resources that are ideal for the academic and career training needed for successful adult education programs. Courses are available to help prepare adults to be ready for a high school equivalency exam, as well as empowering them with the skills and training required for a career. Courses in each core area have been developed for each section of the GED, HiSET and TASC.
Virtual Learning
Effectively teaching students over a distance.
Acellus provides schools with the components needed to successfully start and run a virtual program. With Acellus students studying online receive the help they need, precisely when they need it, resulting in significant gains in student achievement.
Correctional Education
Teacher taught courses provided to students in a standalone, locked down environment.
The education provided in a Correctional Institution is a fundamental component of rehabilitation. Correctional Facilities and Detention Centers are faced with the challenge of providing education to a transient population with varying levels of mastery. Acellus offers correctional facilities a standalone solution that can be deployed in even the most secure locked-down environment. Acellus Courses are all taught by teachers, so that staff that oversee students on many different levels can monitor and facilitate the classes without needing to have proficiency in each content area.
Acellus
A PROGRAM OF THE INTERNATIONAL ACADEMY OF SCIENCE
The International Academy of Science is a nonprofit 501(c)(3) organization that has been advancing science and education for over 30 years. The Academy offers applied science undergraduate and graduate degree programs that prepare students with important hands-on skills and experience needed for success in the workplace.
Acellus was created by the International Academy of Science in 2001, and has since been adopted by thousands of schools across the country, and has provided education to millions of students in all 50 states and worldwide.
Acellus is an interactive learning accelerator. It combines technology and learning science to help students master content, learning more effectively (greater mastery) and efficiently (in less time). Backed by scientific research, Acellus delivers online instruction, compliant with the latest standards, through high-definition video lessons made more engaging with multimedia and animation. Each lesson is carefully designed to connect with previously learned knowledge like interlocking building blocks. Students can log in to take lessons from school or home, on any device.
Find out what it would cost to get Acellus for your school.
Acellus State Coordinators are available to provide you with more information on getting Acellus for your school.